Extinct flower
We combined the intelligence of DNA sequencing and the imagination of the world's best perfumers to give new life to the extinct Macrostylis villosa subspecies 1 + 2, a small aromatic shrub with needle-like leaves that once produced clusters of white flowers for long periods of the year throughout South Africa.
origin flower
Macrostylis villosa subspecies 1 + 2
Historial notes
Last recorded in 1960 in South Africa Extinct by Urbanization. Scent surrected 10.31.2017.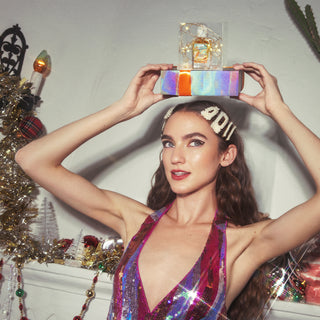 THE WORLD THIS SCENT CREATES
Total 5 star reviews: 50
Total 4 star reviews: 18
Total 3 star reviews: 7
Total 2 star reviews: 2
Total 1 star reviews: 1
87%
would recommend this product
Leathery, Rosy, Slightly Spicy, Bittersweet, Creamy

Smells like a steampunk Queen of Hearts writing in a leather bound journal by moonlight in the middle of her rose garden in June.

You need to love florals and specifically rose to love this one as the rose note is present from first spray to dry down. I like that this presentation of rose is neither very lemony or powdery. There is a faint powdery-ness to it, but is more of a woody soapy presentation of rose, which is my personal preferred version.

This scent is very dynamic and morphs from first spray to dry down. I notice the citrus notes in the bottle but upon first spray I get a heavy waft of leathery, spicy, earthy saffron and of course rose. As it morphs the heart is all fresh, bittersweet, woody, soapy rose, and finally by the end of the day you have a beautiful creamy vanilla scent from the sandalwood (sandalwood often leans creamy vanilla on my skin type).

This scent makes me feel sensual, romantic, feminine, and slightly rebellious (think rockabilly pin-up girl on a date).

Like this one a lot! It is at least travel-size worthy to me (if FS sold one), if not, full bottle worthy.

Sillage: 5/5

Projection: 5/5

Longevity: 5/5

Scent: 4/5

Leans feminine

Good

At first when you spray it it's like a really strong smell. But after it sits in the room for awhile it actually smells really good.

Elegant

Elegant, fresh and sweet really good delicious aroma

Sounds mysterious

I love it, just a little bit too strong

Great smell

The sample came in those tiny travel bottles. Great for carrying around in your purse and even though the bottle is super tiny. You don't have to worry about running out to soon. It's a very nice quality, meaning the fragrance is strong enough to last me all day without becoming unbearable. Overall great perfume!
Reviews Loaded
Reviews Added