Extinct flower
We used powerful biotechnology to sequence a DNA sample of Wendlandia angustifolia, a small flowering tree that once thrived in India's Western Ghats Mountain Range.
Historial notes
Last recorded in 1917 in India's Western Mountains Extinct by Drought. Scent surrected 10.31.2017.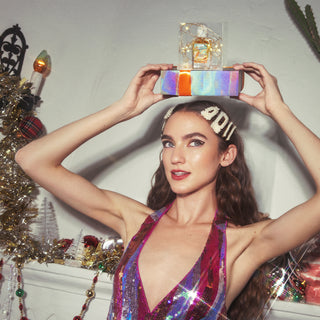 THE WORLD THIS SCENT CREATES
Total 5 star reviews: 6
Total 4 star reviews: 0
Total 3 star reviews: 0
Total 2 star reviews: 0
Total 1 star reviews: 0
100%
would recommend this product
Spicy, Herbaceous, Woods, Hint of Tart Floral

Smells like the medicine cabinet of your wiccan cousin.

I thought based on the notes this was going to be my favorite Future Society fragrance, because when I look at the individual notes, they are some of my favorites. This is proof that you should never blind buy any fragrance, because instead of being a love for me like expected, it was just "meh." Something about the way these notes are balanced and blended just does not do it for me.

My nose really picks up the ginger, eucalyptus, chamomile, and base notes with a fleeting splash of grapefruit and not very discernible rose. The rose I do smell is more of a sour lemon-y rose which is my least favorite version of rose. I like the natural and not so powdery iris in the base though.

I also do not know if I go nose-blind to this really quickly or if my skin chemistry devours it, because this scent is almost fleeting to me and what is there is sour. While the top notes are expected not to linger, I don't get longevity out of the heart or base either. It disappears in minutes to me, but my daughter says she can smell it still. I do smell it slightly longer on a tester strip so I think it is a combo of both. My potential nose-blindness to this is also likely why it's not for me, but it's also not a bad fragrance. I think this would be a fine scent for someone else. (I rated 5 stars for the review because for what it is the fragrance is well done. It's just not a not for me fragrance.)

Sillage: 1/5

Longevity: 1/5

Projection:…

Raphael

Verified Reviewer

So lovely

Genuinely such a pretty, light scent. You can definitely smell the herbal notes; a delicate, simmering sachet of tea, covered by a bed of roses. Smells crisp enough to wear in warmer weather and inviting enough to wear in the cold.

Chelsea L.

Verified Reviewer

Crisp & Fresh

I'd say if you like a clean scent like linen or cotton you'll love this one.

Jessica F.

Verified Buyer

One of a kind!

Invisible Woods is my new favorite fragrance! I have been using it during the day by itself and then layering it with other fragrances on the rare occasion when I go out for the evening. Even my husband who doesn't notice these things commented how much he likes this fragrance.

Smells like tea :)

Very fresh and wearable. Reminds me a little of Le Labo The Noir but that might just be from the chamomile notes!
Reviews Loaded
Reviews Added